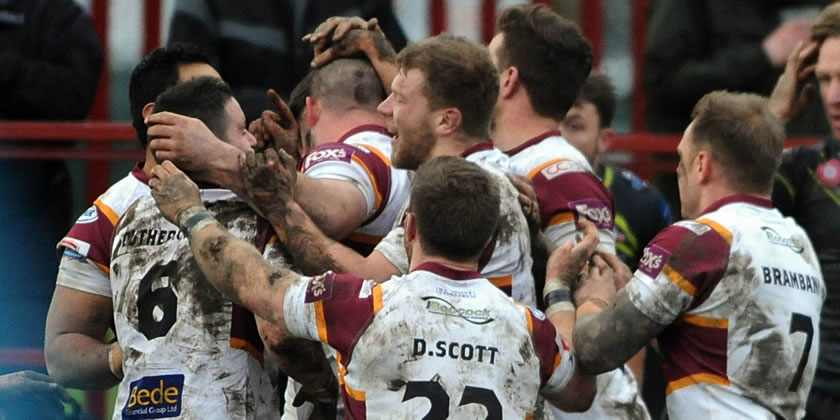 The Club is born
Batley first played (as they still do) on the Mount Pleasant arena at the top of the hill, just a mile or so from the main shopping centre in the town. A team which first donned in cerise and fawn colours and justly earned for the club the nickname of 'The Gallant Youths'.
The stepping stones were laid under the support of Rugby Union, way back in 1880. It was in that year that certain members of the Batley Cricket Club who had for several years played at the foot of Howley Hill in what was more commonly known as 'Owd Billy Wood's Cloise' – having rented that splendid enclosure, decided that it would be better and more worthy of the town whose name they bore to have a football side affiliated to them and change the name to Batley Cricket Athletic and Football Club. This decision was at the time a little premature in regard to the actual title presented, for it was based on having approached only one of the two rugby clubs playing in the area, Batley Athletic, with regard to the actual amalgamation. Athletic were regarded as a side well capable of matching all comers with outstanding qualities aided by speed and stamina. The second club was Batley Mountaineers, who possessed a very quick and wiry set of players, well capable of also holding their own against most teams in that era, and it was the latter club who, on looking at the Cricket Authorities decision at naming Athletic their choice as premier of the two, took this to be some kind of stigma beset upon them which was not taken lightly, nor to remain without some effort on their part, being made to remove it, especially as their side had been considered the better of the two in certain quarters!
In consequence of this feeling a challenge match was arranged between the two sides at Mount Pleasant on 23rd October 1880, to decide once and for all which of them ought to occupy premier position in the town. Much interest was manifested in the event, and not surprisingly a large crowd assembled to witness the outcome. Unfortunately it turned out to be somewhat of an anti climax with both sides claiming victory. The Mountaineers gave their opinion as to being winners by one try and two touchdowns to Athletic's two touchdowns, whilst the latter gave their score line in similar fashion to that of their opponents, which if being the case would have made the match a drawn affair. The main point at issue (which eventually saw the abandonment of play by the referee to confuse the matter even further) was the legality of the Batley Athletic try thought to have been scored by their forward, Albert Parker. It is recorded that Parker knocked the ball forward, re-gathered it and crossed the line with his opponents making no effort to stop him. The referee gave it as no score, but Athletic were adamant in not accepting his decision and the match was immediately stopped minutes from the playing time's end.
First Season Highlights – Various letters passed between the secretaries of the respective sides following the unsavoury affair and hard as the Mountaineers club tried, even provoked, the Athletic passed a resolution refusing point blank to any return match being entered into, and so it came to be that the Batley C.A. & F.C. was born. Perhaps this also is a little confusing to actually set as a direct statement, for bearing in mind that the abandoned match affair took place on 23rd October 1880, Athletic put into practice the proposed C.A. & F.C. title earlier on the 2nd of the month, against Bradford Zingari at the Mount Ground in what had to be classed as the first ever game under the club's official heading. They opened their new life with a victory at home by 2 goals, 3 touchdowns, 2 dead balls and one touch goal to nil. The first official Batley side on that historic occasion being; A. Parker (Captain) and G.H Wilks (threequarters), T. Elliker and C.E.T Moore (halfback), Wilson, A.Parker, Kitson, Hopkinson, Taylor, Rayner, Drake, Ratcliffe, Varley & O'Donnell (forwards). The dressing rooms used, incidentally at this early stage were housed in the Royal Hotel, Bradford Road and were quoted in official handbooks as being 8 minutes walk from the ground.
Further into that first year, Batley went on to their first ever cup opponents in the shape of Harrogate (away) in the first round of the Yorkshire R.U Cup Competition. The home side by all accounts were warm favourites but the wearers of the cerise and fawn entered into this venture determined to give a good account of themselves and this they were able to do to great effect, going on to win the match by 1 try, 2 touchdowns to 3 touchdowns. On their return to Batley the team were greeted at the railway station by the local brass band – who preceded a large crowd of townsfolk and played 'See the conquering heroes come'. This then was the first ever victorious cup – tie welcome extended to the Batley team by their own supporters. With Halifax Wanderers (away again) halting the side in the following round Batley were left to continue with fixtures against such as Leeds Juniors, Batley Carr Trinity, Heckmondwike Union Jacks and Huddersfield Rangers. The season closed a very creditable one and highly satisfactory to those who were in office at the time. 26 games had been played in all, 15 won, 5 drawn and 6 lost, whilst the scoring amounted to 21 goals, 41 tries, 64 minor points, 2 posters to 9 goals, 14 tries, 102 minor points against. The locals were hailing it as not bad for a first season!
The club made steady progress through the 1880's culminating with the winning of the Yorkshire R.U Cup in 1884 – 5 season. Round One saw Heckmondwike despatched 8 – nil and Round 2 Pudsey visited Mount Pleasant and 4 goals, 2 tries, and 16 minor points to nil saw a journey to Halifax in Round 3, an Arthur Ineson drop goal winning the day. Fourth Round opponents Salterhebble, comprised themselves mainly of strapping quarry-men, a 2 points lead over their opponents 5 points left Batley, Dewsbury and Manningham at the last 4 stage. Bradford again were semi final opposition and the venue being Halifax, a crowd of 20,000 assembled and following a tight match the outcome went Batley's way as Bradford let them off the hook by missing a straight conversion kick from under the posts, the ball hitting the cross bar. The first Batley team to be involved in a final had to beat Manningham which they did by 8 minor points to 2 and as proud holders of the Northern R.U Cup, they could also reflect on having beaten all past holders of the trophy which now they held. 1893 – 94 season saw the erection of a huge open grandstand purchased by the football committee following its use at the Yorkshire Agricultural Show at Dewsbury. Once erected it covered the whole side of one length of the Mount Pleasant playing area. This season, however, was disappointing from a football point of view as the club finished next to bottom of the table.
Into the Northern Union 1895 – 6 – During the close season, there was much discussion and debate by the heads of the Yorkshire Rugby Union Authority. Prime concern was aimed at trying to persuade the clubs now operating in the Senior Competition to adopt a principle of 'promotion by merit' to the club's outside the league set up. The Senior Competition Committee could not see it in their way to agree to such a proposition. Batley and several other clubs were now found to be closely scrutinising decisions being made by the leaders of the Rugby Union, especially as a further disagreement had been widely discussed – the payment of broken time to these amateur players, monetary compensation in lieu of wage loss at work during the time they were absent from such and playing football. The Rugby Union Authority had not given their approval to this either, and so a meeting of representatives from each club was held at 'The George Hotel' Huddersfield on 29th August 1895 where it was decided to form an independent Rugby Union with rules that would make it legal for players to receive payment for broken time. 20 clubs all together joined the movement and Batley's first match was on 7th September 1895 against Hull at Mount Pleasant with Batley winning 7 – 3. Spurr scoring a try and Shaw dropping a goal. The team on that historic occasion being; A.Garner, I.Shaw, J.B.Goodall, Joe Naylor, J.Oakland, Jim Naylor, T.Elliker, M.Shackleton, P.Munns, F.Fisher, J.Littlewood, W.Wilby, C.Stubley, R.Spurr & W.Lowrie.
Northern Union Challenge Cup – First Winners – 1896 – 7 Season saw Batley contest the first Northern Union Challenge Cup Final against St Helens at Headingley and a 10 – 3 victory resulted. Batley were hailed 'Champions of the North' and following post match celebrations at the Exchange Restaurant in Leeds, Batley returned home by train. The spectacle that greeted them was unbelievable on reaching their destination. Emerging from Morley Tunnel, first notification of the team's arrival was the discharge of no fewer than 160 fog signals on the rail tracks which were heard by thousands of enthusiasts who had crowded all available space along Station Road, Hick Lane and most other principle thoroughfares leading to the Town Hall. A procession headed by Batley Old Band made its way along the thickly populated streets decked with coloured lights, torches and numerous other methods of lighting which had been employed. The trophy itself stood 36 inches high manufactured of solid silver prize, which cost to manufacture sixty guineas and stood on a black ebony base approximately 8 inches deep. 15 caret gold medals – inscribed with the Coat of Arms of the trio of counties participating, etched over a gold rugby ball, were also awarded to the victorious Batley Team.
1897 – 8 Season saw the Cup retained on 23rd April 1898 at Headingley before 27,941 – the largest gate yet for a rugby match. Gate receipts totalling £1,506. 6 shillings were taken as Batley defeated Bradford 7 points to nil with points from Jack Goodall (try & goal) and 'Wattie' Davies (goal). The team was the same as the previous year with the following exceptions; F. Fozzard for I. Shaw and J. Rodgers for Littlewood in the forwards. The third and final time Batley won the cup was in 1900 – 01 Season, on 27th April 1901 once again Headingley was the venue as Batley defeated Warrington 6 – 0 with tries from 'Wattie' Davies and Wilf Auty. (Batley Team; A. Garner, W. P. Davies, J.B. Goodall, J. Oakland, J. Midgley, P. Judge, C. Stubley, F. Fisher, R. Spurr, J. Rodgers, F. Fozzard, F. Hollingsworth & G. Maine.)
The club's next silverware came on 23rd November 1912 when Hull were defeated at Headingley by 17 – 3 to record Batley's one and only Yorkshire Cup Final victory. Point scorers being Tindall (2 tries), Brooksby (try) & Lyons (2 goals), Brooksby (goal) & Garforth (goal). (Batley Team; Lyons, Tindall, Garforth, Drummond, Ward, Laughlin, Brooksby, Kitson (Captain), Fenton, Battersby, Leek, Hill & Gath.) Season 1923 – 24 proved an exceptional one for the 'Gallant Youths' reaching the semi final of the Yorkshire Cup and leading the league by November 1923. The icing on the cake, however, was the lifting of the Rugby League Championship Trophy for the only time in the club's history on Saturday 3rd May 1924 at Broughton, Manchester, when Wigan were defeated 13 – 7 before a crowd of 15,097 paying gate receipts of £987. (Batley Team; Robinson, B. Williams, G. Davidge, H. Rees (2 goals), Murray (2 tries), Scott, I. Fowler (Captain), Leeming (1 try), Brooke, G. Ramsbottom, Douglas, Smith & F. Carter. In addition the club also lifted the Yorkshire League Cup. 1924 – 25 saw the ground record attendance set on 14th March 1925 when 23,889 attended a Challenge Cup Tie with Leeds. Gate receipts totalling £1,693 / 11 / 3d. Silverware has been in short supply for Batley since the Championship success.
1952 saw a Yorkshire Cup Final appearance against Huddersfield on 15th November. 'Fartown' running out victorious by 18 – 8.
September 1981 saw a 40 – 3 Yorkshire Cup Semi Final defeat against Castleford and the club's last trophy was achieved at Mount Pleasant on 19th July 1998 in the Trans Pennine Cup Final when Oldham were defeated 28 – 12 before a crowd of 2,686. Richard Price landing 6 goals and scoring a try, Roger Simpson (try) and Man of the Match, Gary Barnett (2 tries). (Batley Team; J. Dyson, L. Bargate, D. Hughes, R. Simpson, P. Gleadhill, R. Price, G. Barnett, R. Powell, M.Cass, C. McWilliam, G. Miers, P. Mirfin & P. Harrison.) Subs; S. Walker, G. Middleton, A. Wray & N. Bradbrook. Also that season Promotion from Division 2 was secured.
From then on with the introduction of Super League in 1996, teams like the Batley's of this world have had to face unequal opposition with regard to various teams employing full time squads and receiving 'parachute' payments to enable team strengthening and it may ultimately transpire that sadly the glory years may never return to Mount Pleasant. Prominent players throughout the club's history include; Wharton Peers Davies, Ike Fowler, Joe Oakland Frank Gallagher (GB Tourist), Joe Oliver (GB Tourist), Jack Tindall, George Brown, Bill Riches, Bill Hudson, John Etty and George Palmer. In the modern era players of note include; Norman Field (GB), Stan Gittins, Tommy Martyn, Carl Gibson (GB), Simon Wilson, Paul Storey, Richard Price (First player to play and score in every Batley game in a season – 1998), Barry Eaton (emulated Price's feat in 2002 – 3 & 2004), Glen Tomlinson, Michael Booth, Paul Harrison (Top try scoring forward in club's history) and Craig Lingard (Top try scorer in club's history).
In November 1997 the present Board took over after there was a suggestion of a merger with Dewsbury and financial woes nearly resulting in the Club being wound up. However the Club pulled through and in 1998 were promoted to National League One and also successfully defeated Oldham at Mount Pleasant to win the Transpennine Cup. Since that promotion the Club have managed to remain in the top division of the part-time professional game although they did come close to relegation before winning a Play-Off Final at Widnes against Dewsbury.
To 2010, and the Bulldogs, under head coach Karl Harrison, secured their first major silverware for 86 years with a heroic Northern Rail Cup campaign culminating in a grand day out in Blackpool for the final. On their way to the showpiece game, the Bulldogs had faced Widnes Vikings, Whitehaven, Gateshead (breaking several records in a 100-4 victory) before knocking out Sheffield Eagles and Leigh Centurions to set up a showpiece finale against a Widnes side they had opened the campaign up against with a 30-30 draw at the Mount. Trailing 24-15 in the closing stages of the game, dual-registration wingman Alex Brown wrote himself into Bulldogs folklore as his two late tries secured the Cup for Batley!
In 2011 when Karl Harrison left by agreement to join his beloved Halifax the Club managed to secure the services of experienced International and Super League Coach John Kear and to continue to enjoy a good level of success until in 2013 they reached the Grand Final at Leigh where despite leading at half-time 12-0 they were eventually beaten by Sheffield Eagles 12-19 who retained their Title.
Finally in 2014 after a mixed season it was only a final day victory against Doncaster away that retained their Championship status when five Clubs were relegated in a unique season to prepare for the new era of Rugby League 2015. Now promotion and relegation from Super League has returned in a new innovative format. A new page in the history of the Club is about to unfold and everyone at the newly named Fox's Biscuits Stadium are looking forward to a successful future.