Categories: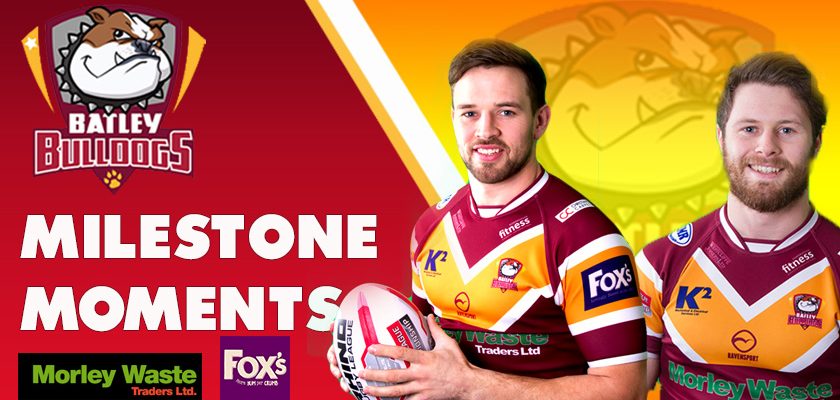 Points machine Patch Walker reached 400 for The Buldogs with the first conversion in his 57th appearance during the Good Friday Derby against his former club, Dewsbury Rams. A further 2 kicks pushed him to 404 points in a Batley shirt, leaving him needing just 14 more to reach a fantastic career 1500 points.
In the same time Full Back Dave Scott made his 150th career appearance.  Having now played 71 games for Batley since joining in 2016, he was previously with Doncaster, 66 games, (2013-2015) and Featherstone, 1 game, (2013). He has also represented Scotland 12 times (2011-2015).
Fantastic achievements from both players who are vital members of the Bulldogs' squad.
Categories:

Match Report by Luke Winner.
Batley claimed the Good Friday bragging rights defeating Dewsbury Rams in a tough derby at the Fox's Biscuits Stadium; winning 18 – 10.
Matt Diskins men started the game well, making plenty of yards and placing some heavy pressure against the visitors. However, it wasn't Batley who opened the scoring, with Dale Morton collecting a wide Batley pass, racing the full length to score. Sykes missed the conversion.
Dewsbury were becoming quicker off the mark after every play, causing the Bulldogs to make some errors along their line. Wayne Reittie soon hit back though at Dewsbury, collecting the spoils as the ball was shipped left to right. Walker couldn't convert.
Joel Farrell, Tom Hemingway and Jason Crookes made themselves known on the field against their former club, marching the Bulldogs deep within their opponents half. 'Super' Brad Day was back at his tricks again, catching a swooping pass from Walker to score close range. Walker added the extras. Batley 10 – 4 Dewsbury.
It became tense before half time with both teams approaching each other halves, but unable to make any break. On the hooter Pail Sykes put over a penalty goal, bringing the scores within touching distance.
HALF-TIME: Batley Bulldogs 10 – 6 Dewsbury.
Jason Crookes got the second half back underway claiming what was going to be Batleys' final try of the day; jumping up in the air to catch a deep kick from Walker to touch down on the left hand-side. Walker converted the conversion.
Dewsbury were looking to get something out of the second half, with Batley making it near impossible for them to put a foot on the ground of the game. Diskins' men proved too much for the visitors, keeping them pinned in their half for the remaining part of the game.
Rob Worrincy completed Dewsbury's move off on the wing, speeding to the line leaving some of the Batley defenders in the dust. Sykes added the conversion.
Batley had the final say with Patrick Walker slotting over a penalty goal, declaring Batley the victors of a tough derby match.
FULL-TIME: Batley Bulldogs 18 – 10 Dewsbury Rams.
Batley Xlll – Dav scott, Wayne Reittie, Sam Smeaton, Lewis Galbraith, Jason Crookes, Patrick Walker, Dominic Brambani, Michael Ward, Alistair Leak, Alex Rowe, James Harrison, Brad Day and Joel Farrell.
Interchanges – Tom Hemingway, James Brown, Dane Manning and Tom Holland.
Dewsbury Xlll – Josh Guzdek, Robert Worrincy, Harry Woollard, Macualey Hallett, Dale Morton, Paul Sykes, Dominic Speakman, Toby Everett, Robbie Ward, Martyn Reilly, Lucas Walshaw, Robert Spicer and Aaron Brown.
Interchange – Samuel Day, Daniel Annsell, Jode Sheriffe and Kyle Trout.
Attendance: 1117